5 Diamonds For 7 Years.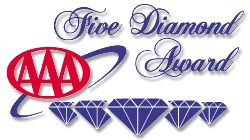 PONTE VEDRA INN & CLUB AWARDED AAA's COVETED FIVE DIAMOND STATUS
ORLANDO, FL. (November 2008) — For the seventh consecutive year, the Ponte Vedra Inn & Club has received the coveted Five Diamond Award, the American Automobile Association's (AAA) highest hospitality honor. The Ponte Vedra Inn & Club is one of only seven Five Diamond resorts in Florida, and one of only 37 Five Diamond resorts in the United States.
AAA rates nearly 57,000 restaurants and lodgings throughout all 50 states, Canada, Mexico and the Caribbean, providing the broadest coverage of any U.S. rating system, both geographically and by number of properties rated. Only one quarter of one percent of all properties inspected by AAA actually receive the coveted Five Diamond Award.
AAA ranks properties based on overall quality, range of facilities, and the level of services offered by the property. According to AAA, Five Diamond properties "reflect the ultimate in luxury and sophistication; accommodations are first-class; the physical attributes are extraordinary in every manner, and exceed guest expectations while maintaining an impeccable standard of excellence."
"The staff is truly the key to our rating," said Dale Haney, vice president and general manager of the Inn & Club. "Our 750 employees strive diligently to insure every guest's experience at Ponte Vedra Inn & Club is exceptional and unforgettable. We are very proud indeed, of receiving this distinguished award."
As North America's largest motoring and leisure travel organization, AAA provides its 52 million members with travel and automotive-related services. Since its founding in 1902, AAA has been the respected leader in the travel industry.